During my first formal job, as computer instructor at Sacred Heart Convent School, I spent most of my time in the computer lab with Windows 98 desktop machines that sported hard disks not bigger than 4GB. I also hung out with little humans (primary school kids), slightly older humans (secondary school pupils) and middle-aged humans (teachers and nuns). It was my job to teach all these categories of humans in this very humble computer lab. But the larger bit of fun was the other role the computer lab played… It was the office of the Founder and President of the Football Association of Sacred Heart (FASH).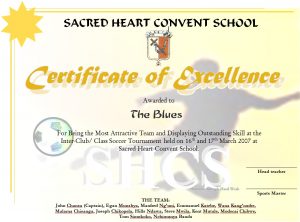 As sports master, I, with a couple of soccer-minded pupils set up the FASH, whose sole function was to administer the school's soccer league and tournaments. Each grade or class basically made a team, but each team was allowed to buy players from another team, in a transaction overseen by none other than moi. A key highlight of the tournaments was the pre-season press releases that we gave. I won't talk much about how tournaments and the league were organised, because Alfred Deuce Lukwesa already put that succintly in his Facebook post. So here I'll just give you the first press release in the 2008 soccer season. Note that the first tournament took place in 2007, but the Publicity Office was only established in 2008. So the 2008 soccer season press release contained info about the 2007 season.
2008 SOCCER SEASON PRESS RELEASE
The most expensive professional player in the 2-year history of the tournament is Wajula Mweetwa, who was bought for a record K30,000 by Hangover United in the 2007 Soccer Season. He will however be playing for Trojans FC this season.
Albertus Schmidt and Kabungo Mwakazandga both of The Gunners, were the top-scorers of the 2007 Soccer Season.
After signing a 1-season contract with Trojans FC, Kando Felisho becomes the first Primary Section-based Professional to feature on the official line-up of a Secondary Section club. Watch him in action this season.
Problems have risen in the Lil Saints camp over whether Kangwa Mwila will join New Joc City, the team captained by his brother. The Mwila brothers will today hold a press conference to confirm their position on the matter.
Trojans FC have expressed interest in Fantastic Ten key player, Thomas Mpyana. Sources close to the midfielder yesterday revealed that he has been holding closed-door talks with Trojans FC Managers Tom Simukoko and Anthony Kabamba.
The girls' Sports Captain, Kansa Mutande, has put together a G11 squad that takes on Lomthunzi Zulu's G9 Squad in what promises to be a nail-bitingly exciting encounter. The match between these two teams will be the tournament's curtain-raiser.
An official from one of the clubs has expressed disappointment with how the football pitch has been marked for this year's tournament.
The debate on who will take this year's Grand Prize between Trojans FC and The Gunners has reached an advanced stage. Most fans around school are putting their money on Trojans FC. However, we will have to wait until Saturday to see who has what it takes to rule the world of football at Sacred Heart Convent School.
The tournament kicks-off at 14:45hrs on Thursday March 13, 2008 when Lil Saints take on New Joc City.
Winners of 2007 Soccer Season Individual and Team Awards
Best Goalkeeper – Mumba Mwakazanga (The Gunners)
Best Defender – Kapambwe Mukoboto (Hangover United)
Best Midfielder – Malama Chisanga (The Blues)
Top Scorers – Albertus Schmidt (The Gunners) & Kabungo Mwakazanga (The Gunners)
Scorer of the Best Goal – Mwengu Malasha (Westside United)
Best Young Player – Tawonga M'hango (The Blades)
Most Valuable Player – Moses Muzumara (Hangover United)
Most Attractive Team – The Blues
Runners Up – Hangover United
Champions – The Gunners
 Only the biggest names light up this one… 2008 Soccer Season, hosted by Sacred Heart Convent School and brought to you by the FASH, a Team Worth Supportin'. (Oh, and entertainment by some fellas who think they can rap).