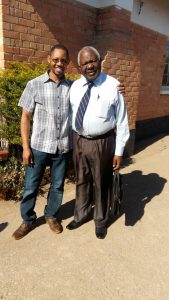 If you ever thought I had a brilliant mind, get a load of this man… Today I celebrate 75 years of The Dadster.
In all my life, I've never seen him shed a tear. Even when things are tough, he has stayed strong. It is this kind of strength and fortitude that inspires me everyday to get stronger and to better my best. But while he is strong like that, he's arguably the kindest and most pleasant man I've ever known, always ready to lend a hand to those that need it, and going the extra mile to help uplift the lives of others.
In Dad's selflessness, he sold his last car just to get me into secondary school. How do you disappoint such a man? The number of sacrifices he has made for his family, both nuclear and extended are beyond mention. He gives, and asks for nothing in return. It's God-inspired kindness, worthy of emulation.
Now Dad's a genius too… This dude knows that a non-event mass with a quantum probability of zero only exists in stasis, he can deduce that a circle is a two-dimensional non-Euclidean continuum, and of course he can still derive the quadratic formula without referencing a pure math text book. And don't even get him started on Heuristic algorithms.
But above all of this, he's humble, loving, wise and God-centred. A true, father who has taught his children to not only look to God for success, but to also live God-fearing lives and to show grace to others. His wisdom and Godly counsel show in his everyday life. Oh, how I want to be like him when I grow up!
Dad, I may not be with you in person on your 75th birthday, but my heart is always with you. And everyday I pray that God will shine His face on you, according to the scripture (Numbers 6:24) that you and Mum gave me the day I ventured out of your house to start a life on my own in August 2009.
Dad, you are the best father that God ever made, so I gladly say "Long live the Dadster in joy and good health!" Salute!